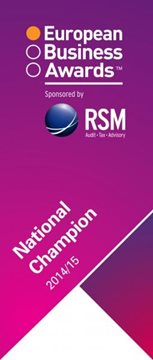 30-09-2014
ΕUROPEAN BUSINESS AWARDS 2014/15 PAPOUTSANIS SA: NATIONAL CHAMPION
PAPOUTSANIS SA, was nominated as National Champion of the European Business Awards, in the category: "Τhe Business of the Year Award with Turnover e 0-25m".

This year RSM received applications of 24,000 companies from 33 countries and 700 companies excelled.

Through a process of evaluation involving prominent European representatives of the academic and business communities, PAPOUTSANIS SA will compete for the title "Ruban d 'Honneur" which is awarded to the 100 top companies in Europe.

The summer of 2015 the final winners will be announced in each category at the European level.