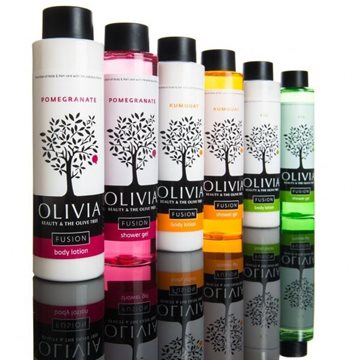 11-06-2013
Olivia Fusion - New Products from PAPOUTSANIS
Papoutsanis is launching Olivia Fusion, Olivia's extension line,

Olivia Fusion: Pure, Natural Personal Care Line in three extraordinary fragrances combinations of Shower Gel & Body Lotion.

Olivia Fusion Pomegranate with pomegranate and olive extract with antioxident properties and a pleasant relaxation feeling.

Olivia Fusion Kumquat with kumquat and olive extracts with emmolient effect and a sense of freshness all day.

Olivia Fusion Fig with fig and olive extracts for deep moisturize and sensual aromas.

The new, pure, natural Olvia Fusion line with vibrant aromas and unique bottling is availabe at PAPOUTSANIS e-shop, Attica Care Lab, selective Hondos Center stores and selective Pharmacies in Greece.